There might be no greater despair one can experience than to know something's wrong with you…
…and it can never be fixed.
Could be a debilitating accident, a genetic disorder, or a lifelong, potentially life-threatening disease—these kinds of challenges seem absolutely impossible to us.
The hopelessness of these conditions threatens to swallow the victim in unconsolable despondency.
That's what it was like for a little boy named Francisco, whom I met in a small community in the semi-arid country of Nuevo León, Mexico.
Francisco is a very articulate 8-year-old boy.
I met him while taking our Epicentro students on a 4-day mission trip to the ranchos of Galeana, Nuevo León, far from the reach of my cell phone provider.
Galeana is a three hour drive from Monterrey, the home of our Instituto Epicentro campus.
Monterrey is a highly developed, densely populated city of 9 million inhabitants.
Galeana is… not.
The community where I met Francisco propably has a total of 300 or so people in it. Very small, and certainly forgotten by the larger Mexican world.
So what were we doing in this small part of nowhere?
Mission trips are one of our most effective means of training young disciple makers.
As I've written before, the mission trips we do may be short in terms of time, anywhere from three days to three weeks. But they are long-lasting in terms of the impact they have on up-and-coming disciple makers.
On this trip, I had taken a small group of 6 students (four from Mexico and two of them from Japan) with me to the lonely countryside of Nuevo León to give them hands-on experience in service, ministry, and the teaching of the Word.
While in the region of Galeana, we did a lot of children's ministry.
In this particular community where I met Francisco, about 50 or so children came walking over to the church which was hosting us to meet the strangers who had come in from the city.
We played with the children, sang vacation Bible school songs, and danced until we almost dropped! It was great.
Afterwards, we gathered the children and asked them if we could pray for them.
That's where I met Francisco.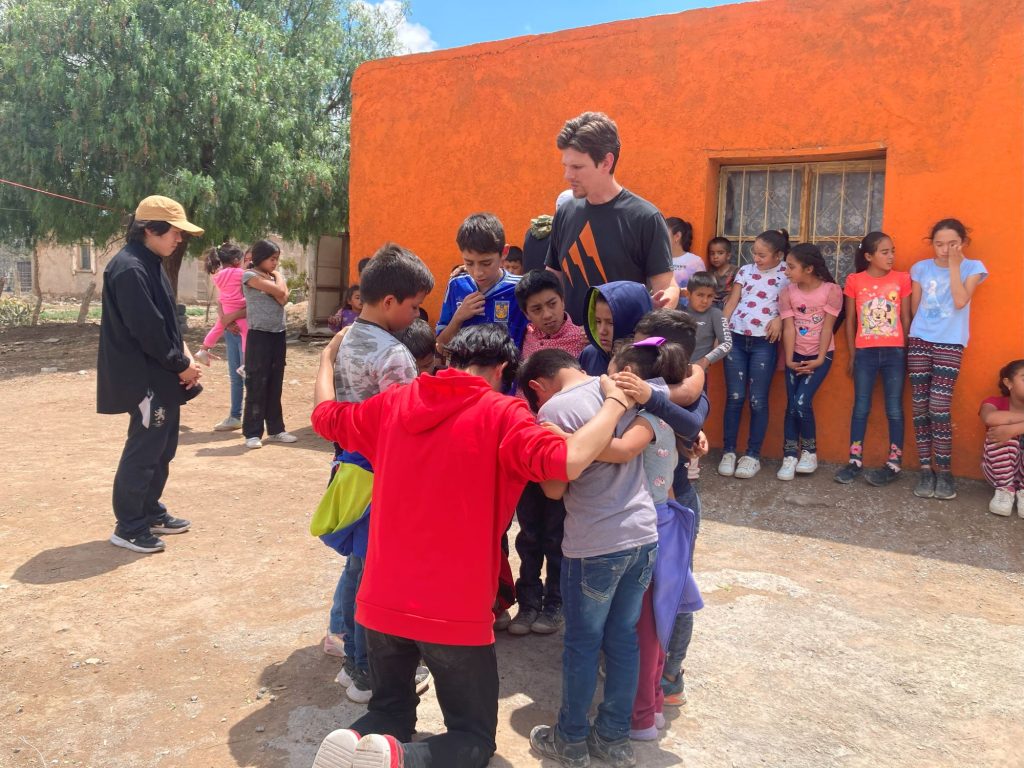 When I asked Francisco how I could pray for him, he told me that he had an "infinite disease, el rojo."
Suffering from El Rojo
I've never heard of one of an "infinite disease," but I think I knew what he meant.
This was something that wasn't going away anytime soon.
But what is el rojo?
Rojo is Spanish for the color red. This is what he called the chronic medical condition of which he suffered.
The reason for this quickly became clear.
He told me that he couldn't eat anything red. If he did, he would have an allergic reaction, sometimes so severe it could threaten his life.
Putting this all together, I realized the child had an allergy to the red dyes very common in all kinds of food.
No ketchup, no juice boxes, and definitely no sodas. Imagine being a kid with that kind of a diet!
El Rojo Leaves Francisco
I laid my hand on Francisco's shoulder and prayed.
After I finished, I asked him how he felt.
Francisco told me that as I prayed for him, he felt el rojo come up from his feet, through his chest, and then out through his head.
In true boyhood style, he made a guesture with his two hands as if he were a volcano erupting to try and show me how el rojo had left him.
Right after prayer, we fed all of the children who came. Of course, we fed them plenty of food with red dyes in them like sloppy joes and Mexican snack mixes.
All of it was full of red dyes and colorants.
I kept my eye on Francisco to see what he would do, and of course, if there would be any kind of reaction to the food.
Not only did he eat a plate full of sloppy joe and chips, he came back for seconds.
And no allergic reaction!
Before you wonder if the boy was truly ever sick, the adult leaders of the host church were very excited to see the little guy eating without a care in the world.
Those who know Francisco know about the "infinite sickness" that used to plague.
They now know that in Jesus' name, no sickness is ever infinite.